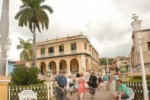 The members of the XXII Canadian solidarity brigade named after Ernesto Che Guevara, continue their tour around Sancti Spiritus territory, where they arrived last May 8th.
The visitors returned this Tuesday to the capital city, after having spent two days in Trinidad. They were taken to see the urban historic center which, along with the Valley of the Sugar Mills, was designated World Heritage Site by UNESCO in 1988.
The over 40-member group also made a field trip to Topes de Collantes hills, where they could admire the beauties of nature in this area of the Guamuhaya range of mountains.
The head of the group, Awand Mohtashant, told AIN that they were all greatful for the hospitality and the human warmth. In this nation we are warmly welcomed by children, women, and old people, everywhere we go, he added.
The Canadian brigade members arrived in Cuba last April 28th, to attend the 1st of May celebrations, and will go back to their country next May 18th, after having visited several regions of the country.