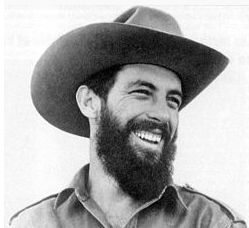 Since I was very young, I used to hear my grandmother talk about Camilo Cienfuegos. I didn't know who he was, but I realized she was very fond of him. "There is nobody like him", she said. I even thought she referred to a boyfriend of hers.
By Dayenis Lopez Rodríguez*
It was later on that I came to know this legendary figure. I met him several times as soon as I began school. I saw his photo hanging on the wall of the classroom. I watched it frequently. The twinkle and firm look in his eyes, the great hat on his head, and his wide smile made me ask myself who that man was.
Then, my teacher told me his name, and without any hesitation I said: "Ah, this is my grandma's boyfriend!".
This man had an attractive smile, and had very special feelings for the people. He was very loved and admired in return. His energy, his spirit, and his desire to see his country free, consecrated him as one of the greatest heroes of the Cuban history.
(…)
Camilo fought many battles, and was granted the rank of Commander of the Rebel Army when he was only 25 years old. On October 1958, he arrived in Sancti Spiritus, where he founded a revolutionary front in order to liberate the local northern territories.
He knew that the support of the people was essential to win the battle, and he considered that the defence of the Revolution was impossible without the contribution of Cubans.
Camilo would have turned 82 this February 6th, hadn't he disappeared in 1959. The Man of the Thousand Anecdotes, the Hero of Yaguajay, or the Man of the Vanguard, however he's known as, will always be Camilo, the boyfriend of all Cuban grandmas.
* The author is a student of journalism at the Central University of Las Villas