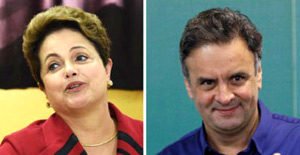 The next Brazilian president will be decided in a runoff vote on October 26, as none of the candidates reached the 50 percent plus one needed.
The official results issued by the Supreme Electoral Court (TSE) reveal that the President of the country, Dilma Rousseff, of the Workers Party (PT), got 41,22 percent of the votes after 96 percent of the ballots were counted.
Though leading, Rousseff did not exceed 50 percent of the votes in the first round of the elections, so she will have to face the candidate of the Brazilian Social Democracy Party, Aécio Neves in the runoff vote.
Neves got a 33,99 percent of the votes and and stood in second place while the candidate of the Brazilian Socialist Party, Marina Silva won 21.21 percent of the votes, according to the TSE.
The remaining eight contenders for the presidential chair obtained less than two percent of votes in the polls during which also the governors of the 27 states, senators, and federal and state legislators were elected.