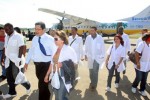 The program "Mas Medicos" (More Doctors) will have 13, 235 health specialists in April to provide medical services to a population of 46 million Brazilians, asserted on Monday the country's President, Dilma Rousseff.
We'll meet the objectives proposed almost a year ago when we conceived "Mas Medicos," which seeks to expand free health care coverage throughout Brazil, highlighted Rousseff in her regular Monday radio program "Café con el Presidente."
Now we have 9,490 physicians distributed in 3,025 municipalities and 31special indigenous districts, which guarantee direct attention in health posts near their homes to 33 million citizens, she underlined.
With this, we resolve 80 % of the heath problems of people. The head of state stressed that recent surveys show the positive results of this program, which has national and foreign physicians.
Two of every three persons approve the government's decision of bringing physicians to Brazil to improve the health of the population, she emphasized, while reiterating that the program has the purpose of increasing registration up to 11,500 to study Medicine in 2017.
A total of 7, 400 of the contingent of foreign physicians are Cubans, who offer their services in Brasilia, while another group of 4,300 receives training in several cities of the country to begin their work in rural areas and the outskirts of big cities in April.