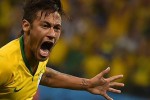 Host Brazil won the first match of the World Cup, following an ceremony in Sao Paulo, opening the tournament.
Minutes into the opening match, Croatia took a surprise lead after an own goal by Brazilian defender Marcelo, before Neymar levelled the score to 1-1 in the 29 minute.  Oscar wraps it up at the 91 minute.The host went on to win 3-1.
The ceremony in the 62,600-capacity Corinthians Arena starred Jennifer Lopez, who performed the tournament's official song, We Are One, with Brazilian singer Claudia Leitte and rapper Pitbull.
More than 600 artists, including acrobatic gymnasts, trampolinists, marshal arts-style capoeira performers and tilt walkers also featured in a homage to Brazil's three great treasures: nature, people and soccer.
Taken from www.eluniversal.com.mx