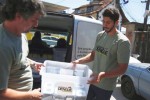 Brazilian researchers released some 10,000 mosquitoes in the city of Rio de Janeiro to fight the deadly dengue fever in the country.
The mosquitoes, released Wednesday,  are infected with a bacteria named Wolbachia that suppresses Dengue virus and make mosquitoes unable to pass on the deadly illness.
From 2009 to 2014, Brazil reported 800 deaths and some 3.2 million detected cases of Dengue.
Researcher Luciano Moreira who is leading the project in Brazil said it will take years to complete their research but that in some areas there will be an immediate reduction of Dengue cases.
"I'd say that in the short term, in about two years, we will see a reduction in Brazil yes, in the number of (dengue) cases in some places and then in something like five or even 10 years we will study an expansion of this project in Brazil with much more concrete data," Moreira said.
This initiative is part of the international program Eliminate Dengue: Our Challenge, in which countries as Australia, Brazil, China, Colombia, Indonesia, and Vietnam are trying to eradicate this illness. Dengue is a very present illness in all these countries.
The first research on Wolbachia bacteria began in 2008 at the University of Monash in Australia. The first release program happened in 2011.
The initiative is working with local universities and governments in each of the countries to release Wolbachia infected mosquitoes in an effort to stem the endemic.
Until the Wolbachia bacteria research began, almost every effort to attack Dengue concentrated in eliminating the Dengue carrying mosquitoes or made them infertile.
According to World Health Organization Dengue can cause high fevers, muscular pain, intense headache, vomit, and nausea. Even when in most cases Dengue is not a deadly disease, there is a special variant which is more dangerous.
Taken from teleSUR