The book entitled "Patria o Muerte, Venceremos!" (Homeland or Death, we shall overcome!) by Italian professor Paola Laura Gorla was launched at the University of Havana on Monday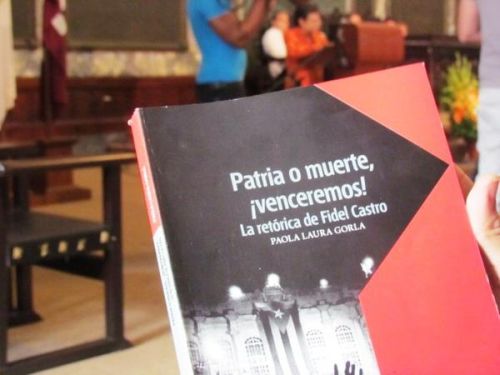 The work addresses the literary values of Fidel´s speeches, by considering a selection of them since the triumph of the Cuban Revolution in 1959.
During the presentation of the book, author Paola Laura Gorla said that her work was encouraged by the interest of the academy following the impact by Fidel´s speech given at the Revolution Square after the death of Commander Ernesto Che Guevara.
According to Gorla, Fidel´s speeches can perfectly be addressed as literary materials and she requested that a copy of her book be given to the Cuban Revolution leader.
The book presentation was attended by Gustavo Cobreiro, rector of the University of Havana and by Zuleica Romay, president of the Cuban Book Institute.