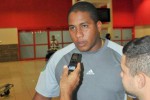 Baseball player Alfredo Despaigne arrived in Cuba, from Mexico, after serving for the past month with the Piratas de Campeche in the Aztec summer circuit, Triple-A category.
Granma's outfielder arrived at 2:00 pm yesterday on a flight of Aeromexico from Cancun.
In one of the halls of the José Martí International Airport, Despaigne had an exchange with Pedro Cabrera, director of International Relations of the National Institute of Sports and Recreation (INDER by its Spanish acronym), and Higinio Velez, head of the Cuban Baseball Federation.
The famed ballplayer made ​​it clear that neither he nor the Cuban Baseball Federation had played any role in the alleged possession of a fake Dominican passport, news unveiled last week by ESPN journalist Enrique Rojas.
I am confident that my image will not be damaged in Mexico and much less in Cuba, because we have nothing to do with this case, Despaigne said.
Now I'll spend time with my family, waiting for the authorities of the Piratas and the Mexican League to clarify the situation, the burly slugger, who has received no news about it in the past hours, noted.
His dismissal has caused a tremendous gap in the Piratas line-up because he had an average of .346 with an OBP of .407, slugging of .603, 15 RBIs, 16 runs scored, 10 extra-base hits, including five home runs and two stolen bases in as many attempts in 2 0 games.