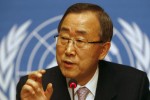 The Secretary General of the United Nations, Ban Ki–moon, will travel to Cuba next week to attend the 2nd Summit of the Community of Latin American and Caribbean States (CELAC).
Ban will participate in the summit as a special guest at the invitation of the President Raul Castro, and his agenda also includes a meeting with the Cuban president and other activities.
The Cuban government also announced it would invite senior representatives of institutions cooperating with CELAC member countries, such as the secretary general of the Washington-based Organization of American States (OAS), Jose Miguel Insulza and the head of the Gulf Cooperation Council (GCC), Abdul Latif bin Rashed Al Zayani.
The Heads of State and Government of the Community of the 33 CELAC member countries are due to arrive in Havana as of January 27th for the summit, which will run January 28th and 29th.
According to organizers, among issues of regional concern are poverty, the exploitation of natural resources, the U.S.-led economic blockade against Cuba, cultural policies and terrorism.
CELAC was founded in December 2011 in Venezuela to promote regional integration. Its first summit was held in Santiago, Chile, in January 2013, at which Cuba took over the bloc's presidency for the year of 2013.