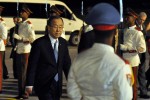 Ban Ki-moon, secretary general of the United Nations (UN) for the first time in Cuba on an official visit, reiterated in this capital the willingness of the international body to work together with Cuba.
The distinguished visitor held a cordial exchange Monday with Marino Murillo Jorge, vice president of the Council of Ministers, head of the Commission for Implementation and Development of Guidelines for Economic and Social Policy of the Party and the Revolution.
Ban Ki-moon attended the meeting accompanied by Alicia Barcenas, Executive Secretary of the Economic Commission for Latin America and the Caribbean (ECLAC).
Both personalities will participate in the Second Summit of the Community of Latin American and Caribbean States (CELAC), which will be held on January 28-29, at Havana's PABEXPO Fairgrounds.
Ban Ki-moon acknowledged the efforts of the Cuban nation to boost crucial economic and social changes, and inquired about the progress of the important transformations underway.
Murillo, meanwhile, said it is an honor to have an exchange with the Secretary General of United Nations, and asserted that Cuba recognizes and appreciates the international cooperation of the UN, through its development agencies, and praised the actions UN promotes in favor of implementing the resolutions adopted by its Member States.
The Vice President of the Council of Ministers highlighted the particularly extensive exchange and cooperation between the island and ECLAC, which will continue to spread in the future.