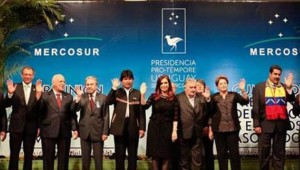 The meeting brings together the presidents of Argentina, Uruguay, Paraguay, Brazil and Venezuela who will aim to sign a resolution for the establishment of a complementary economic zone.
The presidency of the organization will be passed on from Venezuela to Argentina at the summit.
The Argentine Foreign Minister Hector Timerman said on Monday Mercosur should be a unifying force.
"It is imperative to transform the financial, commercial and economic system imposed by the current capitalist model and in this regard Mercosur should take the leadership in the continent to promote wealth creation and the development of our nations," he said.
​Evo Morales, President of Bolivia, will also be present at the summit in an observer capacity. Bolivia is in the process of joining Mercosur, although the country needs the approval of Paraguay in order to confirm their presence in the group.
It will include the participation of Cuba, Ecuador, Saint Vincent and the Grenadines, Dominican Republic, Antigua and Barbuda, St. Lucia, Venezuela and Nicaragua.
For her part, the President of Brazil, Dilma Rousseff, will propose a free trade agreement between Mercosur and the Pacific Alliance, and an associated trade agreement with Chile, Peru, Mexico and Colombia.
The treaty will allow the reduction of tariffs and could initially benefit the agricultural industry and trade in Latin American nations involved.
(Taken from TELESUR ENGLISH)