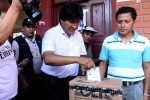 With 27,463 polling booths around the country, nearly 6 million Bolivians will vote to choose their next president.
The stage was set since very early. Polling stations opened at 8am, Bolivia time. Voting will continue through 6pm. At 7am, the voting process began with an official ceremony at the Supreme Electoral Court (TSE) office.
Voting facilities have also been set up in 33 other countries, where some 272,058 Bolivians will be able to vote for president and vice president from abroad. Voting is mandatory for all Bolivians, age 18 or over.
There are five presidential candidates in total. Incumbent president Evo Morales for Movement for Socialism (MAS); Samuel Jorge Doria Medina for Democratic Unity Alliance (UD); Jorge Quiroga Ramirez for Christian Democratic Party (PDC); Juan Fernando del Granado Cosio for Movement Without Fear (MSM); and Fernando Vargas Mosua for the Green Party.
Today's elections will also choose a vice president; 36 senators, four for each of the country's nine departments; and 130 Representatives. Of these representatives, 63 represent single constituencies, 60 multi-departmental representatives and seven special constituencies for indigenous peoples.
Bolivia has a population of over 10.5 million people, made up of 36 ethnic groups. The majority of the population (70 percent) is concentrated in the capital city of La Paz. As of 2011, 60 percent of the population was younger than 25 years of age.
On Saturday night, the president of the Supreme Electoral Court (TSE) of Bolivia, Wilma Velasco, warned the political parties to act with "maturity" when it comes to the results, and to act as "vigilantes" of the electoral process once they have cast their own votes.
President Morales is expected to win by a landslide, polling at 60 percent by the latest figures. On Saturday, Morales's main challenger, businessman Samuel Doria Medina, tweeted: "Tomorrow is a decisive day for Democracy, and this lies in the hands of the people, or the eternalization (sic) of Evo's power will be imposed. You decide".
 Taken from telesurtv.net/english