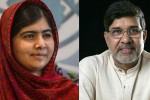 Pakistani child education activist Malala Yousafzai and Kailash Satyarthi, an Indian child rights campaigner, have jointly won the Nobel Peace Prize.
At the age of just 17, Malala is the youngest ever recipient of the prize.
The teenager was shot in the head by Taliban gunmen in October 2012 for campaigning for girls' education. She now lives in Birmingham in the UK.
Malala said she was "honoured" to receive the award, saying it made her feel "more powerful and courageous".
She revealed she found out the news after being called out of her chemistry class at her school in Birmingham.
"I'm really happy to be sharing this award with a person from India," she said at a news conference, before joking that she couldn't pronounce Mr Satyarthi's surname.
The Nobel committee praised the pair's "struggle against the suppression of children and young people".
Mr Satyarthi has maintained the tradition of Mahatma Gandhi and headed various forms of peaceful protests, "focusing on the grave exploitation of children for financial gain," the committee said at the Nobel Institute in Oslo.
The 60-year-old founded Bachpan Bachao Andolan, or the Save the Childhood Movement, which campaigns for child rights and an end to human trafficking.
Reacting to the news, Mr Satyarthi told the BBC: "It's a great honour for all the Indians, it's an honour for all those children who have been still living in slavery despite of all the advancement in technology, market and economy.
"And I dedicate this award to all those children in the world."
Taken from bbc.com