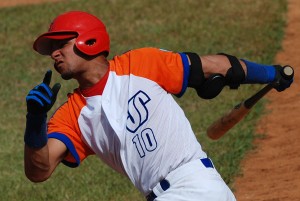 After two suspensions due to rainy days, the euphoria seemed to have weakened in Sancti Spiritus as playoff actions restored on Wednesday.
Matanzas came to the game with great expectations and took the initiative by taking out of the box the candidate of Rookie of the year, 19 years old Norge Luis Ruiz, and Crocodiles seemed to tie the subseries when taking an early 5×0 lead.
Frank Navarro, one of the visitor's reinforcements, had a terrific outing as starter and mastered Roosters's offense, allowing only six hits and one earned run in seven chapters.
In the opposite side reliever Yoen Socarras kept Victor's men from getting more runs and got his teammates to the decisive 9th.
After the two first outs, the game turned into a nightmare for the rival team. No hurler seemed to be able of getting the 27th.
A double, a walk, a dead-ball, two hits and a wild pitch left the scene ready for Yulieski Gourriel, who fought his past demons and brought over home plate the winning runs.
Now actions favored Roosters who will be moving to Matanzas to play during Saturday, Sunday and Monday in search of the two remaining victories.