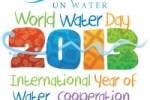 Cuba is celebrating World Water Day with the development of new collaborative projects with foreign governments and organizations, aimed at solving problems in the management of water resources across the country.
According to Vladimir Cabranes Alpizar, of the International Relations Department at the National Institute of Hydraulic Resources (INRH), 2013 is an important year for the institution, which is developing in cooperation with several international partners more than 30 projects for the rehabilitation of water networks in provincial capitals and other highly populated communities.
Also, INRH vice president Aymee Aguirre highlighted the important role of the assistance and financing provided by international organizations, such as the United Nations Children's Fund, for these projects, which she deemed of high social and economic impact.
World Water Day has been celebrated every March 22 since 1993, in accordance with recommendations from the United Nations Conference on Environment and Development, which includes an accord to promote sustainable development.