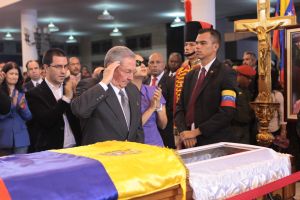 Some thirty world leaders gathered in Caracas to join throngs of mourners at a state funeral for Venezuela's Hugo Chavez on Friday.
Venezuela has given an overwhelming farewell to the popular leader, with hundreds of thousands of people filing past his open casket nonstop since Wednesday to say goodbye to the man, who did the most for the oil-rich nation's poor. The state funeral began at 11:00 local time at Caracas' military academy.
Dozens of world leaders are attending the funeral, including Cuba's Raul Castro, Iran's Mahmoud Ahmadinejad and Belarussian president Alexander Lukashenko.
The posthumous tribute to Chavez, who died last Tuesday after battling cancer for nearly 2 years, is also attended by the presidents of Bolivia, Ecuador, Uruguay, Mexico, Chile, Costa Rica, and Equatorial Guinea, and delegations from over 50 countries.
Earlier, Acting President Nicolás Maduro said Chavez's body will be embalmed and taken to the "Mountain Barracks" in the January 23 slum that was a bastion of Chavez support, a facility that is now being converted into a Museum of the Revolution.
The body of the late leader of the Bolivarian Revolution will be placed in a glass case, with the aim that "our people can have it forever," Maduro said.  (RHC)
CELAC, ALBA Homaged President Chavez
Presidents of member states of the Community of Latin American and Caribbean States (CELAC) and the Bolivarian Alliance for the Peoples of Our America (ALBA) paid homage to Venezuelan president Hugo Chavez, who lies in state in Caracas.
Cuba's Raul Castro, Colombia's Juan Manuel Santos, Ecuador's Rafael Correa, Mexico's Enrique Peña nieto, Uruguay's Jose Mujica, Bolivia's Evo Morales, Haiti's Michell Martelly, among others served as Guard of Honor to homage Chavez.
Past 9:00 hours on Friday morning started the arrival of presidents and delegations from several countries around the world to pay homage to the president of the Bolivarian Republic of Venezuela.
53 delegations, 32 of them leaded by presidents and heads of state, have arrived in Venezuela to attend the state funeral of the Venezuelan President, who passed away last Tuesday, March 05.
(Taken from AVN)