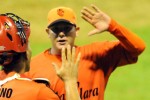 Villa Clara defeated 8×1 Matanzas on Wednesday night to return home with two victories that place them near the dream of a title in the 52nd Cuban Baseball Championship.
In a game delayed by rain, Crocodiles could not manage to decipher Leopards' pitching and lost their second encounter as locals as well as their best starter througout the season: Joel Suarez.
Yordan Manduley continued performing well and went for 5-3, 2R and 1RBI while his teammates Edilse Silva (2RBI), Ariel Borrero (2RBI) and Yeniet Perez (1RBI) shot homers to help increase the score.
Matanzas' batters, on the other hand, have only 9 hits in the two games and a single run, which made stronger the theory of the lack of  heavy offense when facing good hurlers, and certainly Villa Clara is a team packed with great pitchers.
The great final of the 52nd Cuban Baseball Series will continue on Saturday in the central province where locals will support their squad to encourage them to get the title at home.