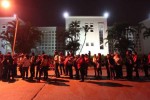 Past 5 o'clock in the morning on Thursday, the Venezuelan people remained in queues and gathered in the surroundings of the Military Academy, in Caracas, to say goodbye to the president of the Republic, Hugo Chavez.
Since early Wednesday night, the doors of the Academy were open for all citizens to get close for the last time to the Head of State, who lies in state in the hall of honor of this building. Organized, people enter the place and others remain outside waiting and accompanying.
"Chavez became thousands, he became millions and here we are, the youth, those in charge of undertaking the duty entrusted by Commander Chavez," said Antonio Serrano, who stayed the whole night outside the military fort accompanying the leader.
He added that Chavez has made Latin America and all people in the world turned their eyes in Venezuela, thanks to the labor carried out by the Bolivarian Revolution.
"Chavez has become a national and international figure, liberator of all the people and he took the duty to integrate and bring the unity to Latin America and the Caribbean, as our Liberator Simon Bolivar had dreamed," Serrano said deeply moved.
Mayra Guerrero came from Andean state of Trujillo, in the west, to accompany President Chavez and express her love for the revolutionary leader. Women were vindicated thanks to him, she said.
"Chavez meant heart and love for the entire Venezuela. That's what he gave us and that's why the Venezuelan people are here proving it. We love you Chavez."
Another citizen said that President Chavez deserves to lie in the National Pantheon. Also, he said that his commitment is to follow the guidelines said by Chavez last December 8, when he requested to continue the Bolivarian Revolution and elect Nicolas Maduro as the next president of Venezuela.
In addition, he invited all Venezuelans and citizens of other countries to go to the Military Academy to pay tribute to the revolutionary leader.