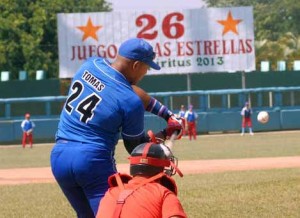 Cuban baseball athlete Yasmani Torres performance, and the win of the veteran West team over the East team, were the most significant results Saturday in Sancti Spiritus, as a preamble to the game to take place this Sunday at Jose Antonio Huelga Stadium.
Tomás scored 14 home runs and lead the Home Run Derby qualifying competition, while western veterans were very spirited in their 7-5 game. Tomas, currently considered one of the island's most outstanding baseball players, dazzled local fans with his kilometric hits, some of them beyond 450 feet, Prensa Latina News Agency said.
Joan Carlos Pedroso (6), Eriel Sánchez (5), Yosvani Peraza (5), Frederich Cepeda (4), Edilse Silva (1) and Yordanis Samón (0), were also present in the hum run contest. Tomas and Pedroso were the only two qualified for the final competition, in which they will faced with the already qualified Alfredo Despaigne and José Dariel Abreu.
Winners of the skill competitions:
Home Run Derby (qualifying competition):
Yasmani Tomas (Industriales)
Joan Carlos Pedroso (Las Tunas)
Pitch to the barrel:
Lednier Ricardo (Camagüey)
Pitch from the outfields:
Dayron Varona (Camagüey)
Home to first base run:
Jose Manuel Moncada (Cienfuegos)
Field run:
Jose Manuel Moncada (Cienfuegos)
(Translated by Escambray)