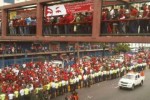 Thousands of Venezuelans wearing red in shirts, flags and other items, as the color preferred by deceased president Hugo Chavez, bid him farewell today through the streets of this capital.
The funeral line, escorted by motorcycles and cars, was 18 kilometers long, from the Military Academy to the Fort of the Mountain (Cuartel de la Montaña), in the popular January 23 parish.
A real red tide accompanies the Head of State in his trip, as a just tribute to a statesman of the Republic over the last 14 years and booster of programs of wide social impact.
At its stride, the caravan receives a shower of flowers thrown from the public on both sides of the avenue, in tribute to Chavez, who died last March 5th.
This Friday's ceremony started at the Military Academy, where the casket was exposed to the public, allowing the people to say goodbye to their leader.
The state ceremony gathered on March 8th delegations from 54 countries, of which 32 were led by Heads of State and government.
To the Venezuelan authorities and those from other nations, that meeting represents the recognition to the wide world influence won by Venezuela's leader.