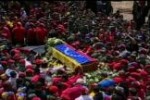 People march in Venezuela accompanied President Hugo Chavez to the Military Academy, named by the socialist leader as "House of Blue Dreams".
Beginning at 10 am, a march full of people accompanied Venezuela's President Hugo Chavez, to the Military Academy (named by the socialist leader as "House of Blue Dreams"), said chief of the Operational Strategic Command of the Bolivarian National Armed Forces, Wilmer Barrientos.
He said this march started from the Military Hospital in Caracas to the Military Academy: pass along San Martin avenue, then around the corner from the Junin theater in downtown (opposite Plaza O'Leary), and continued through the entire Bolivar avenue and the Paseo Colon to go down to the Paseo Los Ilustres, in the national heroes boulevard known as Paseo Los Proceres.
Later, the march came to the monoliths that rise in the Paseo Los Proceres, at Fuerte Tiuna military fort, and finally to the Military Academy, where the coffin was received by both the High Military and the High Political Commands.
Chavez's coffin will be placed among the Oak and the Saman trees of the Military Academy of Venezuela, where a Mass will be offered.
At the Hall of Honor of the Military Academy, the Venezuelan people will be invited to give the farewell, said Barrientos, who asked those attending to wear the tricolor bracelet. "All people can take their flag and their bracelet, in memory of President Chavez."
Throughout the movement, he reiterated, war and marching bands with the hymns "of patriotic sentiment" will sound.
"Chavez is still alive today and will live forever in the spirit of the nation", he said.
(Taken from AVN)