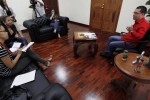 Venezuelan executive Vice-President Jorge Arreaza stressed sports cooperation between Cuba and his country under the Barrio Adentro Deportivo program, which was implemented by Hugo Chavez.
While marking the ninth anniversary of the sports program in Caracas, the Venezuelan vice-president said that the initiative was attacked by the country's bourgeois circles and by their media outlets, but they were not able to thwart the development of the mission, PL reported from the Venezuelan Capital.
Vice-President Arreaza stressed the role of sports as a major weapon to fight crime in the country and to allow the people to positively use their leisure time by taking physical exercises, as well as to train sports promoters and provide healthy recreation for children, youths and adults.
At present, some 6 200 Cuban specialists are preparing new generations of athletes in all Venezuelan states as part of the Barrio Adentro Deportivo Mission.