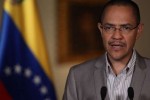 The clinical evolution of Venezuelan president Hugo Chavez is positive, said  Communication and Information minister Ernesto Villegas.
In this connection, Villegas reported that President Chavez is devoted to strictly follow his medical treatment, after a surgery he underwent last December in Havana, Cuba.
The Venezuelan Head of State is fully active, Villegas said, taking decisions and giving the corresponding instructions to his government team.
During a press conference in Caracas, the Minister emphasized that the National Government has not "wanted to raise expectations about any date for the return of president Hugo Chavez."
"The Venezuelan people are telling to President Chavez to fully recover his health and he is doing it, and his evolution has been positive as it has been repeatedly explained to the Venezuelan people."
Minister Villegas reaffirmed that the National Government has continuously given reports about the health of the President. "We have made a significant communicational effort. When we have had to give negative news, we have done it."
In addition, he said that Science and Technology minister Jorge Arreaza -who has accompanied president Chavez since his surgery- informed in Cabinet meeting that the Venezuelan Head of State is aware of all stages of the post-operative process.
(Taken from AVN)