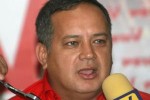 The president of the National Assembly of the Bolivarian Republic of Venezuela, Diosdado Cabello, arrived Thursday, in Havana, on an official visit.
Cabello was welcomed by Cuban deputy foreign minister Rogelio Sierra at Havana's Jose Marti international airport.
During his stay on the island, the top Venezuelan parliamentarian will meet with the President of the Cuban Parliament, Esteban Lazo, and will carry out other activities.