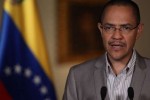 Venezuelan Communications and Information Minister Ernesto Villegas called "false" and "grotesque" a photograph published by Spain's newspaper El País, which shows a man with tubes lying in a hospital bed. 
The image, which made the front page Wednesday, was presented by the newspaper as "an exclusive image" of President Hugo Chavez.
In a message posted on Twitter, Minister Villegas denied the Spanish newspaper's fabrication, saying it was part of an international destabilizing campaign the Venezuelan government had denounced days ago.
El Pais also published the photograph on its on-line version, saying it was offering an unpublished and exclusive image of Chavez, which had been taken a few days ago while he was under medical treatment in Cuba.
However, the Venezuelan minister revealed the image was part of a video showing a man resembling President Hugo Chavez, which had been up loaded to YouTube in 2008.
Only half an hour after appearing on the Internet, the Spanish newspaper had to remove the image from its website and apologize. It also forced the agency to stop the distribution of Thursday's print edition.