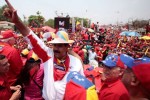 Candidates for Venezuela's presidential elections participated Thursday in the closing acts of their respective campaigns, ahead of the vote on Sunday, April 14.
The candidate of the United Socialist Party of Venezuela and the organizations grouped in the Great Patriotic Pole, Nicolas Maduro, led a rally Thursday morning in Cabimas, Zulia State.
Maduro then led a huge march along the main avenues of Caracas, which he said served to also commemorate the 11th anniversary of the April 2002 coup against then President Hugo Chavez.
Maduro concluded an electoral crusade, during which he visited each and every Venezuelan State, from the plains of Barinas to the main avenues of the country's capital, Caracas.
On the other hand, the candidate of the so-called Democratic Unity Table, Henrique Capriles, ended his electoral race in the city of Barquisimeto, in Lara state.
All electoral campaigns were officially closed Thursday, two days ahead of Sunday's vote.
The National Electoral Council announced that all polling stations will be officially set up on Friday.