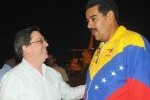 Nicolas Maduro Moro, president of the Bolivarian Republic of Venezuela, arrived in Cuba this Friday, April 26th, on official visit.
According to Granma daily, Maduro was welcomed at the airport by Bruno Rodríguez Parrilla, member of the Political Bureau and minister of Foreign Relations.
The XIII Meeting of  Cuba-Venezuela Intergovernmental Commission was started yesterday in Havana.
The meeting is presided over by Venezuelan Vice-President of the Council of Ministers for Territorial Development, and Minister of Oil and Mining, Rafael Ramírez, and by Cuban Minister of Foreign Trade and Investment, Rodrigo Malmierca.
(Taken from Granma, and translated by Escambray)