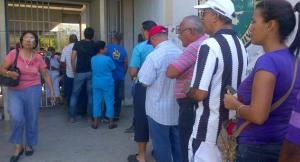 A group of representatives visiting Caracas to accompany Venezuela's presidential elections emphasized on Sunday morning a climate of calm during the process.
Piedad Cordoba, Colombian human rights defender, emphasized the queues in western Caracas, particularly in poor sectors.
Venezuela lives "a democratic party which is example for the world", said Cordoba and she reaffirmed the reliability, soundness and responsibility in the country's voting system, which is a guarantee of profound democracy. She is accompanied by a delegation of 22 people.
Similarly, Honduran Esdras Amado Lopez, representative of political party Libertad y Refundacion, commented the transparency of Venezuelan elections. At the end of their mission, they are expected to draft a report with results of their accompaniment.
Also, a representative of Dominican Republic stressed people's willingness to vote in peace and that he observed a climate of calmness and civic responsibility throughout the election campaign.
Speaking in local television, he added that Venezuela has a unique voting system which is reference for all nations.
Over 170 international companions came to Venezuela in the framework of the presidential elections.
(Taken from AVN)