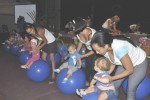 Bergoña Arellano, representative of the Regional Office of the United Nations Children's Fund (UNICEF) announced in Havana the launching of the project "Let's Play", in conjunction with the mayor of Rio de Janeiro. Arrellano said that sports promote values "of vital importance in the development of boys and girls", during her speech at the World Congress of the International Association of Physical Education and Sport for Girls and Women, being held in the Havana Conventions Center.
She praised the correct decision to hold this forum in Cuba, a country with notable experience in that direction.
Regarding the Let's Play project she said that UNICEF is working with authorities to promote sport for all, and this initiative seeks that the nearly 200 million children and adolescents in the region enjoy their right the game.
She said the initiative, which draws on the World Cup in 2014 and 2016 Olympic Games, is structured around an online platform, which will be available in three languages: Spanish, English and Portuguese.
This project will have, she added, 24 micro-sites for local mobilization of the UNICEF offices in each country and includes the participation of leading world athletes like Lionel Messi, considered the best football player in the world today.
The directive, whose office is in Havana, highlighted the implementation in Cuba of the bio-health gyms, a strategy that exceeds 200 units across the country.
I find a terrific idea those outdoor gyms, which improve quality and expectancy of life, not only physically, but also emotionally, because children learn skills for life, she said.
Delegates from 31 countries are participating in this convention that will run till next Saturday.