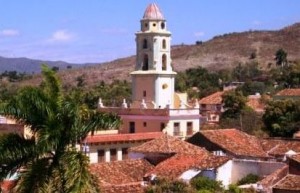 Tour operators and specialized media acknowledged the attractions of the Trinidad-Sancti Spiritus destination when touring  natural sites and facilities in the southern village .
By Ana Martha Panades
Participants in the most important event of the Cuban tourism industry, FITCUBA 2013,  appreciated the cultural and landscape values of the also known as the City Museum of the Caribbean, a product with great potential and still alien to some travel agencies from other countries.
Journalists were captivated by the stunning scenery of Topes de Collantes and the architectural richness of the urban Historical Center. In this area, a World Heritage Site, the visitors enjoyed the cultural proposals that distinguish the product in the Casa de la Musica (House of Music), the  Canchanchara tavern  and other institutions.
2013 FITCUBA participants thanked, in a special way, the travel in the tourist train  through the Valley of the Sugar Mills till the Manaca Iznagas village, and enjoy a rural festivity in Villa Horizontes Ma Dolores, whose show recreates the most authentic artistic musical values of the region.
The inclusion of Trinidad on the final day of the International Tourism Fair became an ideal opportunity to promote the heritage values​​, history and culture of the third Cuban village that next year will reach its half millennium.