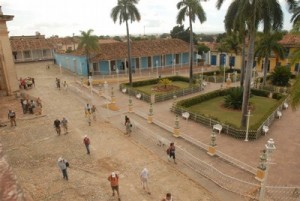 Trinidad refreshes charms to welcome foundation new  anniversary.
The 499-year-old Cuban village of Trinidad dresses up like a noble old lady still proud of her original beauty, while some of its charms are being refreshed.
There is no doubt that the third village founded by Spaniards in this island, is one of the best preserved in Latin America. Great efforts have been made by the workers and experts from the local Curator's Office to restore the historic area of the city, such as the Carrillo and las Tres Cruces (the Three Crosses) squares, and Las Madres (The Mothers) park.
Similar actions have been also taken in the Valley of the Sugar Mills, which holds the condition of Cultural Heritage Site together with the historic area of the village.
A cultural gala will be celebrated next January 13th to mark the 499 foundation anniversary of the village, and the beginning of the so called culture week, which is held every year.
(Taken from Radio Trinidad. Translated by Escambray)