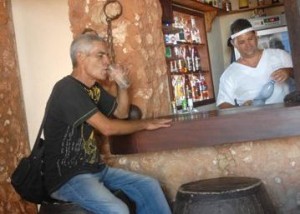 Trinidad changes, suffers daily transformations, as it gets closer to its 500th foundation anniversary. The metamorphosis goes beyond facades, roofs, streets, and the rejuvenation of heritage gems. Services, especially the gastronomy, have undergone a revolution.
Cafes, bars, home restaurants, with offers to suit every taste, and an atmosphere that goes from the colony to modernity, fill Sancti Spiritus southern village.
Through that long list of places one gets to La Botija, where you can witness the colonialists and slaves ambience, a piece of history which welcomes intruders who peek at its doors.
Cozy, remarkable for its decoration, including ceramic vessels, swords, drums, wooden countertops and exquisite odors coming from the kitchen, we are introduced to this restaurant -bar, a novelty that attracts its residents and visitors, foreign or national.
La Botija is one of the sites that will accentuate the reasons to visit Trinidad, which comes to life and youth while breathing renewed air, when the 500th anniversary of its foundation is just around the corner.
[nggallery id=79]