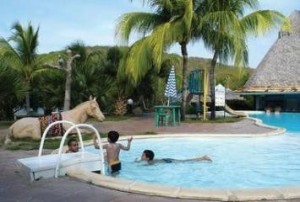 In order to increase the hotel capacity of  Trinidad's tourist resort, building forces of the sector in the province of Sancti Spiritus will start to broaden on March, the Villa Horizontes Ma Dolores, located about 3 kilometers away from that city.
Carlos Mendez Gonzalez, director of the facility, said that some tourism related enterprises will work on 20 rooms that will be added to the 45 existing in this place, located on the Guaurabo River, where Spanish Hernan Cortes departed for the conquest of Mexico.
These actions will be added to the capital rehabilitation of bungalows last year, after the serious effects caused to the resort by May heavy rains.
Carlos Mendez Gonzalez also praised the magnitude of this work and those undertaken in the other rooms, favored with paint, repaired furniture and other improvements in their comfort.
UK, Germany, France and the Netherlands are the main markets during the current high season in Villa Ma.Dolores , owned by Cubanacan SA Chain, explained the official.
According to polls, the customers' level of  satisfaction has increased in this winter season when compared to the past, explained Carlos Gonzalez.
Around 10,500 tourists, nationals and foreigners together, should enjoy this year of the installation, that counts amongs its key attractions on the show Noche Campesina (Peasant Night), a cultural choice that stands due to the presence of Parranda de Manaca, a musical group characteristic of the more authentic values in the region.