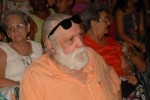 Daniel Chavarria, who attended the 22nd International Book Fair activities in Sancti Spiritus, said to feel himself at home.
Cuba is by no way a sixth island for him, despite having been born Uruguayan in 1933. Neither his adventures in Latin American countries, nor that year spent in Madrid prevented him from letting us know about his work.
The 2010 National Literature Prize winner has been granted other important awards such as the Alejo Carpentier for Novel, the Palma de Mallorca's Camilo José Cela, and the Mystery Writers of America's Edgar Allan Poe.
Since the very announcement of his visit to Sancti Spiritus, within the framework of the 22nd International Book Fair, Escambray planned to interview him.
"The first thing that attracted my attention was storytelling.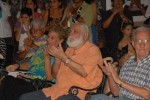 I come from a family of ruined landowners (laughs), but my grandfather, after very unfruitful businesses, managed to keep a little more than a 300-hectares piece of land. In harvest time, people used to gather around the bonfire. There was always someone who told stories and was the focus of attention. I wanted to be that person. I mean, first of all I wanted to become and old man, and then live by my wits" (laughs).
His arrival in Cuba took place in the 1960s. It was then when the novelist came, unexpectedly, from the sky.
"I was connected to a guerrilla movement in Colombia. At certain moment, a man began snitching, and he compromised me. I received a get lost warn from Bogota, so I took a plane and came here. I'm a hijacker. That's why I'm always invited to go to places by car" (he laughs).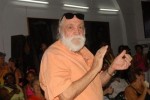 About Joy, his first published novel which also made him famous he said: "It was a bestseller. Half a million books were printed in the socialist bloc, and more than 100 000 were printed in Cuba. I got enthusiastic about that, and then I kept on, and on, and I have become a little better with the time".
Chavarria was granted Sancti Spiritus's Guayabera and Guije recognitions. He promised to return to the city in 2014, to share the celebration of its 500th foundation anniversary.
"Talking about sympathies, I was very fond Sancti Spiritus baseball team, about Gourriel. But I'm a fickle person. Every year a like a different team, and I do so depending on my sympathy towards certain pitcher. I was a Pinar del Rio baseball team follower for years because of Jesus Guerra. I recognized his team spirit; I felt he was one of mine. Now I prefer Victor Mesa, so I'm a fan of Matanzas.
What do you want to tell the reader when you write?
"One has an automatic optic of the public to be addressed. In my particular case, for most of my novels, mostly those with Cuban scenario, I always have in mind a major public which is the youth who have certain cultural level. Using the ways in which novels and fiction can be much more convincing than the pamphlet, I seek to generate ideology, ideas of justice, respect for the truth, all of which are somehow my own course. The fundamental ideas that have made me become what I am: a communist, a revolutionary, an admirer of the Revolution".
How much fiction is there in your autobiography Y el mundo sigue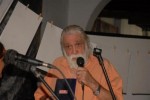 andando (And the world keeps going)?
"All what the genre admits, because both biography and autobiography have fiction included. For example, I cannot remember all the dialogues I had, they have been invented out of situations I remember. Who ever heard Cesar say, when he saw among all the plotters his adoptive son Brutus, holding a knife: 'You too, my son'?. Who could have ever heard, amidst that noisy crowd, that Cesar said so?. He probably didn't say it, but he probably had the thought, and the fact is something emblematic. Making use of my legitimate right, I have invented a lot in all my biography writings".
Holding a work that has been accepted both by critics and the public, does Chavarría feel himself blessed by literature?
"The acceptance of critics honors me a lot, but I already had the prize in the affection that people feel for me. They ask me for autographs, they run after me just to tell me they have read all my books. I hold a prize I never mention: I'm the author whose books are most stolen from public libraries in Cuba (laughs). You can ask librarians. I'm the alive fiction writer whose work is most stolen, and you have no idea of how much proud I feel about that fact. Because even Marti said …". Faced with the fact that Marti hadn't said such a statement, he expressed amidst laughs: "Well, it is a completely innocent crime, it is just for the sake of culture. That suits me very well, because when people steel the books written by me, it means that they don't find them at the bookstores. That flatters me. If they are not available at bookstores, it is because my books sell well".
(Translated by Escambray)