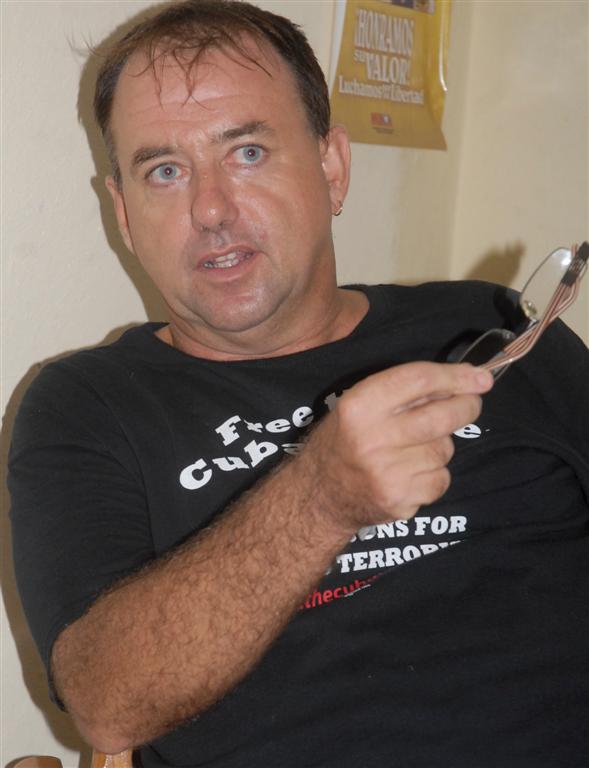 Sean Joseph Clancy fights for the return of the Cuban Five.
Sean Joseph Clancy, an Irish short and strong and close to the average shape, just returned from Washington to his adoptive Trinidad (Sancti spíritus, Cuba) full of experiences-and hopes-after fighting tooth and nail a political battle, during the day Five days for the Five, as a member of the International Committee for the Freedom of those Cuban heroes.
Sean is relatively well known in Trinidad, where he formed a household with his Cuban wife. His tilt to the left, wasn´t bizarre because there in his green Celtic land, he was a member of the pro-independence Sinn Féin Party and suffered with his countrymen the crime committed by the then British Prime Minister Margaret Thatcher, who in 1981 left 10 activists of the entity to die in prison, on a hunger strike, refusing to recognize their status as political prisoners.
As he explains, he came to Cuba for the first time in 1999 in a sightseeing trip with a friend "without speaking a word of Spanish, without knowing anything about Cuba, Fidel, or Che, nothing. I'm talking about a person who knew nothing of this country or the Cuban Revolution," he argues.
then you got involved in the reality of the country …
"Not from the beginning, because I came with an idea foreshadowed by the press out there, where it was said that this was a very repressed people, but though I did not speak Spanish, I felt good here, so I was left with the desire to know more and I had the opportunity to return three months later. So I said: No, I'm really here to see how the situation is, and since then, I returned back every time I could. Now I live more here than there."
We know you are fully incorporated into the battle for the Five. How do you get to become part of the International Committee for the Freedom of the Cuban Five?
"Well, I had an idea, though somewhat vague, about how the Five should be suffering and there was a background history of my fellow prisoners in Britain. It occurred to me to write a letter of encouragement to each of the five prisoners in the United States, and they all responded, each one with a more beautiful and moving letter.
"I introduced myself as a person interested in their cause and I also wanted to introduce it in my country so I kept writing them, at first more to Gerardo and Antonio, then I had more contact with René.Look what happened: a letter from Gerardo arrived this morning ". Clancy, very touched, shows the letter, written in English, and expressed admiration for the familiarity of Gerardo.
"He has to think at a global political level, because he is involved in a global matter, and at the same time he is able to ask about my son, my stepdaughter, my family, how we are here and all those details.
I think his political relevance comes from his human qualities, his honesty, his clarity, his firmness."
WASHINGTON, FLASHES OF A BATTLE
The Battle of Washington, also could be called the day Five Days for the Five, was fought in the Empire's capital by members of the International Committee to Free the Five from different countries; Sean Joseph Clancy was among them.
This event had a special meaning, tell us about your involvement and why it is considered superior to the first one.
"First, I went to Washington as part of the International Committee and I was there for eight days. There were contacts with more than 20 percent of the U.S. Congress, that is, about 45 between representatives and senators, which is very important.
"We talked with them and of all meetings only three were negative, while the rest were neutral or positive, which is a big improvement over last year, when there were less contacts and all of then were egative, I was told, all they were planted in the following terms: 'If you do not release Alan Gross, don´t even think of talking to us.'
"This year was different, because we were almost 40 people, eight of these were parliamentarians from other countries. There were relevant people, as Ignacio Ramonet and Fernando Morais, who wrote the book The last soldiers of the Cold War …, a very strong team.
"On the papers we had to give to each congressman we met, ther was included a document with the signatures of over 150 parliamentarians from other nations. And that letter was signed by 125 members of the Parliament of England, which had to get their attention, because these legislators are not communists, do you understand? "
"All these factors are achieving together a special opportunity and will be very difficult in the future to repeat this 'cocktail' of favorable elements. So we have to keep fighting hard, and put it all in terms of that goal until these Cuban heroes are back home. "