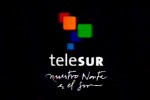 Telesur Latin American television will beam its real time and open signal to Cuba as of January 20 and for several hours during the day.
The announcement was considered another achievement of the Venezuelan TV channel which, since its inauguration in 2005, has increased its audience with 376 million people hooked to open signal and 40 millions by subscription, according to Cubadebate website.
In its beginnings, Telesur hardly counted on 50 workers and five bureaus in Havana, Bogota, Buenos Aires, Mexico and La Paz. Telesur now has 700 workers in Caracas and over 100 around the world.
Another project by the TV channel includes its adoption of HD technology this year.