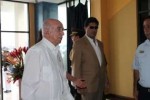 Machado Ventura highlights futuresa advantages of the creation of an economic area that links ALBA, Petrocaribe and Mercosur.
The Bolivarian Alliance for the Americas (ALBA) is today strengthened in its principles of integration and complementary nature, asserted on Wednesday José Ramón Machado Ventura, second secretary of the Central Committee of the Cuban Communist Party and vice-president of the Councils of State and Ministers.
Exchanges between presidents at the 12th Summit had an outstanding qualitative outcome, pointed out Machado Ventura in Guayaquil, Ecuador -the meeting's venue-, in statements to the Prensa Latina news agency.
The incorporation of Saint Lucia as a new member shows the strength, authority and prestige of the ALBA, and the increase of the incidence of the programs implemented by way of this organization, added the leader, who headed the Cuban delegation to the forum.
Machado Ventura highlighted the advantages that the creation of an economic area that links the ALBA, Petrocaribe and Mercosur will have, which with one of the objectives of this Summit, also aimed at strengthening regional economic relations, was met.
For two days, in Guayaquil, 200 representatives of social organizations of the ALBA member nations debated on issues related to the sovereignty of nations, the agricultural revolution, native peoples, and Afro-descendants, among others.