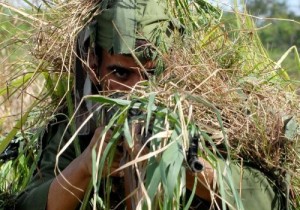 In order to consolidate the work of leaders and administration and steering bodies in the Cuban central province of Sancti Spiritus, and achieving complete combat readiness of the troops, as part of the military doctrine of the "War of All the People", the strategic exercise Bastion 2013 takes place between November 19 to 22 in this territory.
Military Drills Prepare Cuban People to Defend the Country
Raul Castro Opens Military Exercises in Cuba
As reported to the press by the Provincial Military Region, the exercise will strengthen the cohesion achieved by the deployment of troops in combat actions to face the enemy, as well as to enhance their habits and skills in compliance with their missions.
The source also detailed that the exercise presupposes the participation of the Provincial Defense Council with its working groups, the municipal and councils defense zones, and as for the armed component, the management bodies of the Military Region and some other units designated for that purpose are included.
Similarly, the presence of the reserve personnel assigned to positions in times of war is also required, which will strengthen its preparedness levels. Education activities aimed at military- patriotic values were also planned to address the youth sector of the population.
As a culmination of the exercise, there will be two National Defense Days, on November 23 and 24, when thousands of Cubans will take part in the defensive concept of the War of the Entire People, Juventud Rebelde newspaper reported.
The exercise takes into account Cuba's combative traditions and experiences from other nations. It was first held 1980, during the administration of U.S. President Ronald Reagan, which posed a major threat of aggression against Cuba.