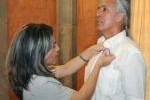 The President of the Cuban Friendship Institute Kenia Serrano bestowed the Cuban Friendship Medal on Spanish activist Juan Manuel Morales for his unconditional and active support of the Cuban people.
The medal, granted by the Cuban Council of States, distinguished Morales's political compromise and his sincere friendship towards the island and its revolution, as well as his support of Cuba's struggle against the US economic, commercial and financial blockade and for the release of the anti-terrorist fighters held in US jails since 1998.
Morales said that he received the medal with pride and with a feeling of responsibility to be faithful to the Cuban people. He said the distinction encourages him to keep defending the Cuban Revolution.
The Spanish activist, who is in Cuba as part of a solidarity brigade, said that this nation is an example of internationalism, a reality materialized by the Cuban doctors who are saving lives around the world.