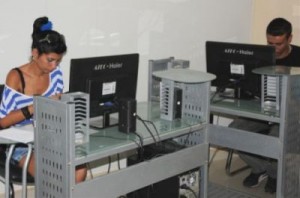 The number of people accessing Internet in Sancti Spiritus is growing

Since last June 4, around 3000 people have turned to the 36 computers located in the nine navigation rooms in the Cuban central province to access Internet.
According to statements by Lorena Rangel Peral, sales specialist of the Telecommunications Company of Cuba (ETECSA) in Sancti Spiritus, the busiest territories are Trinidad, with around 1500 attendees, the capital municipality, with about 1000, and Cabaiguan, which has provided this service for about 300 people.
The source added that of the 14 000 CUC (Cuban convertible peso) admitted to the province, the southern municipality of Trinidad was the largest contributor with about the 50 percent of the total, while Sancti Spiritus has raised about 3500 and Cabaiguan, about 1500.
Among the different services visitors may benefit from are the international navigation with international mail at a cost of 4.50 CUC per hour, the domestic surfing with international mail access for 1.50 CUC per hour and the domestic browsing, worth 0.60 CUC.
So far the connection speed at 2 Megabits per second is maintained, the maximum expected for the stage, thanks to modern transmission equipments and reliable fiber optic systems which ease handling Internet traffic.
The province has distributed these 36 positions in seven of the eight municipalities (except in Taguasco), with the largest representation in Trinidad, with 12 computers, Sancti Spiritus (10), Cabaiguan, Jatibonico, Yaguajay and La Sierpe with three in each of them, and Fomento, which has two at the service of users.