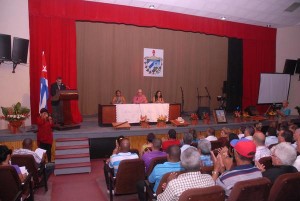 A solemn municipality session was held in Sancti Spiritus's Principal Theater this June 4th to commemorate the 499th anniversary of the village, one of the first seven founded by Spaniards in Cuba.
The ceremony was presided over by local culture symbols such as Gerardo Echemendia (Serapio)'s maracas, a painting by Oscar Fernández Morera, Delio Luna Echemendia's hat, and Raymundo Valle Pina (Nene)'s cane.
Joel Gallardo, president of the Municipal Assembly of the People's Power delivered the key note speech, in which he highlighted the values of the city, and praised what locals have done in order to preserve the village for future generations.
Sancti Spiritus's Historian María Antonieta Jiménez Margolles was recognized with the Coat of Arms of the city, while several local companies were acknowledged as well, for their contribution to the 499 anniversary celebration.
The solemn ceremony was also attended by José Ramón Monteagudo Ruiz, first secretary of the Cuban Communist Party in the province, and Teresita Romero Rodríguez, president of the Provincial Assembly of the People's Power.