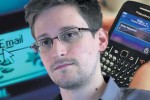 Former NSA contractor, Edward Snowden, possesses information that could badly damage the United States if revealed, stated journalist Glenn Greenwarld in Russian TV.
"Snowden has enough information to cause more harm to the U.S. government in a single minute than any other person has ever had in the history of the United States," considered Greenwald, who works for The Guardian and O Globo and was the first journalist who published the leaked documents.
Snowden revealed that the NSA and the Federal Bureau of Investigation had access through Prism software to servers of large Internet companies, phone calls and emails.
Snowden's purpose is by no means to destroy his country, but to alert people that by using certain software they unwittingly expose confidential information, said the reporter, according to Russia Today channel.
"The U.S. government should better be on its knees every day praying that nothing happens to Snowden, because if something happens to him, all the information could be revealed and that would be its worst nightmare," he added.