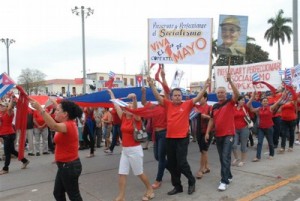 Sancti Spiritus workers were convened for  May Day celebrations in a local meeting presided over by the motto "United for a prosperous and sustainable socialism".
According to Domingo Gutiérrez Gutiérrez, general secretary of the workers' confederation in the territory, the call will be made known in every workplace until March 30th.  After that,  workers will be involved in several political, patriotic, productive, cultural, and recreational activities prior to the 1st of May commemoration.
The trade union leader also informed that recognition activities have been also scheduled in different workplaces of the province, in order to acknowledge what has been done here to implement the guidelines passed in the VI Cuban Party Congress.