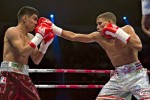 Sancti Spiritus boxer Yosvany Veitia got one of the four titles obtained by Cuba in the Golden Belt Tournament that took place in the Romanian city of Constanta.
Light flyweight Veitia showed his credentials when conquering the first triumph for his nation by beating 3×0 local boxer Ovidiu Berceanu.
The rest of the crowned for the Caribbean island were Lazaro Alvarez (56 kg), Julio Cesar La Cruz (81) and Erislandy Savon ( 91), while novice Gerardo Cervantes (52) and Jose Angel Larduet (+91) lost their finals and settled for silver.
The Romanian competition reappeared in the calendar and according to its organizers brought together the best exponents of Russia, which gave a high level to the event almost at the gates of the World Championship agreed for October in Kazakhstan.