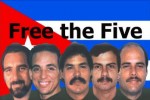 Sancti Spiritus union leaders ask Obama to free the Cuban Five. 
Sancti Spiritus union leaders demanded US President, Barack Obama, immediate liberation for the Cuban Five anti-terrorist fighters.
Domingo Gutierrez Gutierrez, general secretary of the Cuban Workers Union in this central Cuban province, highlighted the role played by Gerardo Hernandez, Ramón Labañino, Fernando Gonzalez, Antonio Guerrero and René Gonzalez, who left for Florida in the 1990s to prevent terrorist actions organized by anti-Cuban groups, and sponsored by the US government.
During a meeting attended by present and former union leaders, and by local media, Gutierrez Gutierrez pointed out that 1st of May marches and rallies will be one more occasion to request a presidential pardon from Barack Obama for the Five. Likewise, workers will ask to stop the US economic, financial, and commercial on the island.
Due to 681 reported terrorist actions, and the 1961 Bay of Pigs mercenary invasion, 3 478 Cubans were killed, and 2 099 became physically disabled.