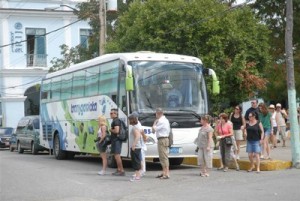 With a revenue growth in both the Cuban convertible pesos (CUC) and total currency,  the Ministry of Tourism in Sancti Spiritus reports a good beginning of the year, confirmed sources from the industry in the Cuban central province.
The favorable economic performance extends to the utilities, which recorded an increase over 182,000 CUC and 215,000 pesos in total curency, corroborating the upward trend of this indicator exhibited in 2012, although the forecast did not materialize .
With a lower cost rate than expected in both currencies, tourism in this territory  pays special attention to the implementation of the Economic and Social Policy Guidelines for the Party and the Revolution, adopted at the Sixth Congress of the political organization.
Regarding this document, the tourism industry welcomed last year more than 165,800 visitors essentially from Canada, United Kingdom, Spain and Italy.
Industry sources said that the occupation of hotels exceeded the one set in 2012,while recognizing an appropriate behavior in the beginning of this year, due to the improvement of marketing actions of this tourist destination in the center Cuba.
The tourism system in this province, the only one in Cuba with two villages: Trinidad and Sancti Spiritus, prioritizes the raising of the levels of customer satisfaction from improved housing comfort and service in general.