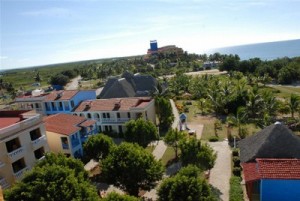 According to the party guidelines, tourism-related activities must be fostered in order to invigorate the economy based on an efficient development program.
Although construction actions in 2012 were not as expected, investments in the Trinidad-Sancti Spiritus tourist destination continue, so that the guidelines agreed upon in the 6th Congress of the Cuban Communist Party do not become dead letter.
When interviewed on the topic, the delegate of the Ministry of Tourism in this territory Reiner Rendón Fernández pointed out that 67% of this year's investment budget will be allocated to Trinidad's Pansea Hotel, and to the major renovation of the Iznaga Palace, in the same city.
The 52-room Pansea resort, to be run by France and Cuba, will be the province's second Five Star facility, after Grand Hotel Iberostar Trinidad. Pansea Hotel should be concluded this year, while other facilities have been already scheduled for construction at the Ancon Peninsula, added Rendon.