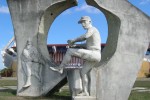 The All-Star Game of the 52nd Baseball National Season will be staged at the Jose Antonio Huelga Stadium, in Sancti Spiritus, central Cuba, before giving way to the second phase of the island's greatest passion.
The Cuban Baseball National Commission and Sports Industry officials took into account the province's leadership in the first stage, the good conditions of the facility and the number of disciplined people who visit the stadium.
They also bore in mind that 4 athletes and a coach from Sancti Spiritus will represent their local team and Cuba at the coming World Baseball Classic.
Players to be involved in the All-Star Game are to be selected by popular vote when some forms are published by national media.
TAKEN FROM CUBASI/TRANSLATED BY ESCAMBRAY