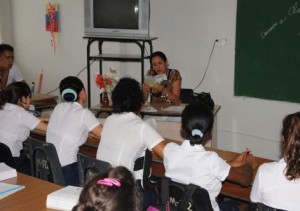 Scientific researches and professional guidance will be main topics of discussion for the 45 delegates to the meeting summoned in Sancti Spiritus, prior to the 5th Congress of the Association of Pedagogues of Cuba (APC).
The meeting, which takes place this Thursday at Captain Silverio Blanco Núñez University of Pedagogical Sciences, will focus on the most significant educational contributions of several outstanding local teachers.
It has been organized into workshops, so that all participants can express their ideas, in particular those related with researches, training, and the support they must provide to help deal with the shortage of teachers in the territory.
José Echemendia Gallego, vice-president of the Association of Pedagogues in the territory, told Radio Sancti Spiritus that there will be three work commissions, and that discussions will be related with the performance of the association, as well as with the training and vocational guidance of the new generations.
Sancti Spiritus Association of Pedagogues has over 1 300 members, whose major purpose is to strengthen the school-family-community link, mainly by personally addressing the people in this respect.
(Taken from Radio Sancti Spiritus, and tranlated by Escambray)