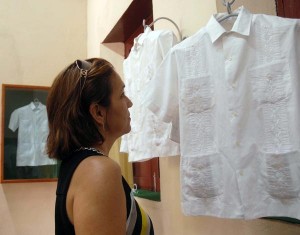 The Guayabera House, once Quinta Santa Elena, held its first anniversary on June 25th. 
By Elisdany López Ceballos
The Guayabera project has among its most important achievements the recognition of this garment as heritage of the fourth Cuban village and the Gender Award from the Swiss Agency for Development and Cooperation. The former Quinta Santa Elena treasures nearly 200 guayabera shirts sheltered within the colonial essences flowing in its walls.
These have come from different places of Cuba and around the world, with entrenched credentials for their owners who have excelled in literature, science, music, politics or dance.
They came to the village of the Holy Spirit and from that moment on, they have told unspoken stories about the feelings contained in a demi plie of Alicia Alonso, the accurate metaphor of Gabriel García Márquez or the simplicity of that man named Hugo Chavez, when becoming president of Venezuela, and forever conquering the heart of Latin America.
What began as cultural revival, with the singular shirt as leitmotiv, has become a local development project in the inherent quietness of the Cuban ancient city of Sancti Spiritus.